Netherlands 4 – 0 Northern Ireland
The Netherlands moved a step closer to retaining their World Cup title after beating Northern Ireland in the quarter-final.
Vincent van der Voort and Raymond van Barneveld both won their singles matches before joining forces to win the pairs to set up a semi-final clash with Australia.
VINCENT VAN DER VOORT 4 – 3 Brendan Dolan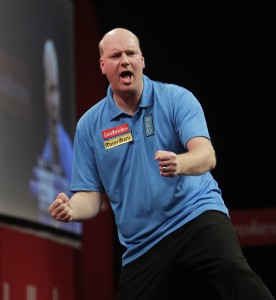 Vincent van der Voort produced a brilliant fight-back against Brendan Dolan to claim Holland's first point of the quarter-final.
The fastest player in the world had to win three consecutive legs, two of which were against the throw, to claim victory from the jaws of defeat.
'The Dutch Destroyer' took out a neat 76 checkout to level after Dolan had won the first leg. The Irishman won the next two legs to open up a 3-1 lead in the race to four.
Van der Voort hit double sixteen in consecutive legs to force a decider. The Dutchman hit a 180 in the final leg before hitting double three to win the match, giving the Netherlands a one point lead overall.
RAYMOND VAN BARNEVELD 4 – 2 Michael Mansell
Raymond van Barneveld produced another strong display to overcome Northern Ireland's Micky Mansell. The defending champion trailed twice in the quarter-final tie but hit back to make it two wins out of two for Holland in the singles.
Mansell won the first leg before 'Barney' hit tops to draw level. The Irishman then hit the same double to go back in front. Van Barneveld restored parity with a tidy 97 finish. He followed it up with a maximum and then hit double eight to take the lead for the first time.
The five time world champion hit double sixteen to seal the win and double his nation's overall lead, meaning the best Northern Ireland could hope for from the doubles was to force a sudden death leg.
VAN DER VOORT & VAN BARNEVELD 4 – 3 Dolan & Mansell
Raymond van Barneveld and Vincent van der Voort made it four points out of four in the quarter-final with victory in the pairs.
The Dutch team won a final leg decider against Northern Ireland's Brendan Dolan and Michael Mansell to secure their place in tomorrow's semi-finals.
Van Barneveld opened with a 180 and his teammate hit double ten to put Holland in front. Their opponents drew level with a 14 dart leg before van der Voort took out 76 restore his team's lead.
Northern Ireland won the fourth leg to level up once more. 'Barney' hit another maximum in response, and then hit double six to edge back in front.
Dolan hit double three to force a deciding leg, which Holland won when van der Voort produced a clinical 90 finish.
The Netherlands will play Australia in tomorrow's semi-final.
By Chris Murphy